* finally, the last day of the camp...
** i forgotten some important information about that day... help me, please?
*** *yawn* i'm sleepy.
**** going to post things, other than this camp! more interesting things to come!
***** spilled hot chocolate on myself whilst typing this log. *ouch*




DAY 4



so, on this day, there were some campers who did not sleep the night before, and for those who slept had a hard time getting up. Lai Seng practically slept through the whole session of breakfast and devotion, while i was practicing my pretending-to-be-awake stance during devotion. hmm... what bro. Stephen said was through, the lack of sleep is actually one of the ways the devil draws you away from God. makes sense.

had the normal Sunday service. decided upon myself to dress up nicely, a promise i made with God. *wink* and thus, the service was on with me in a t-shirt and jeans (well... that's me. neat enough for service!) the final talk about Christian leadership.

after that, was the slides of pictures and chinese narration, by Swee Seng (darn him! a picture of me, editted in a way that my tongue was 4 inch longer!). and after that was testimonies by the campers on how the camp has affected them.

then, time for the awards. and the following are the results;

best team: GMAIL ( i think)
most creative team: YELLOW HALOS! (we deserved it! or were we the best group?)
best leader (guy): my memory failed me.
best leader (girl): wasn't retained in my mind.
best camper (guy): can't remember.
best camper (girl): can't recall.


(please help me here! anyone?)

after giving out prizes and tokens of appreciation, we had a "dance" of appreciation, and had a group prayer. then, we packed out bags, and bid farewell to the campsite, to the uncle in-charge of it, Raub, and the black puppy. it was great indeed!

had chicken rice for lunch, and learnt to listen to what people want before exchanging food. *sigh* i prefer roasted chicken to steamed one, Leanne!

majority of the campers when up to Fraser's Hill, while those who followed Bro. Stephen headed to KL first. when we reached the rest house along the way, we played with the dogs, Zee and Laura, the seesaw, and chatter.

when we reached on top of the hill, we got down to take pictures, nicely before the light patter came... but we went around for awhile, ended up the few of us (Enoch, Hui Wen, Angel and i) lost, and taking pictures elsewhere. when we finally met up with the group, we all headed back to KL.


it was quite a drive. and thanks to my late information and directions, i ended up late at home, and accumilated angry people! although i was a little embarrassed but hey, it's over.

home sweet home, and thus the short semester in UTAR
begins.


the morning of the last day of camp... i think this photo was taken about five before seven? and they're still talking among themselves! i was still in bed.


the award for the most creative team, YELLOW HALOS! or is it the best team? i can't remember! *argh*


at the end... after we are all done! bid our farewells, and said our goodbyes... and we packed our bags after that!


Enoch and the dogs, Zee and Laura. we stopped by the rest house for the moment.


taken at the resthouse. from left, Mary, Jamie, Joelle, Jerome. and me in front.


the gang of campers, at Fraser's Hill.


part one: campers at the clock tower.


part two: less campers at the clock tower.


part three: err... same campers here?


Joceyln and i. boy, is she ANNOYING! hahaha!~


we got lost... well, sort of. Enoch and i. in front of this Rumah Johor.


Angel, Hui Wen and Enoch, in front of RUMAH JOHOR. as you can see, Enoch's capable of multitasking.


from the left, myself, Hui Wen and Angel... hmm... this formation seems familiar....


there it is! taken on day 0 of the camp!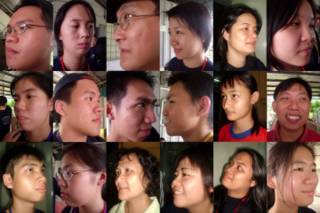 the many faces that were involved with the camp, directly and indirectly.


what a way to end the day... a beautifully, God-created sunset, sinking into the horizon as we were on the way home.

Love & Peace!~


BC?