I coined this term from Joanne…. Came in quite handy actually. Anyway, I have now a headache, and I need to get some sleep soon. Just had to tell you all something about dinner just now!

I was at Pizza Uno with my family and my father friends, enjoying dinner when an unexpected person came in… DOUGLAS LIM! The actor in Kopitiam and Sketches! It was cool! And I got an autograph from him. Indeed, it was good. Although I wished I had a camera to capture the moment, this is still better than none! In conclusion, support your local artist, because they're as artistic as the foreign ones, just unsung.

And I want to go to bed soon… I want to exalt Him in church fully awake tomorrow. Good night!




although there isn't a picture of the both of us together, but this is the next best thing!


this is one of the games i was addicted to when i was at Aaron/Enoch/Hui Wen's house. KINGDOM HEARTS!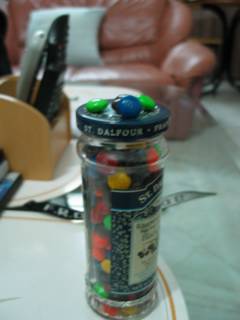 indulging in M&Ms while blogging is cool!~ imm imm will definately be green with envy! and no green M&Ms for you too! hahaha!~

Love & Peace!~


BC?